Hiroshi Yamazaki (山崎 弘Yamazaki Hiroshi) is a shooting guard at Kirisaki Daiichi High.
Appearance
Yamazaki has orange, spiky hair with the fringe in the middle being longer than the sides. He has small eyes and large ears. He is of average height and build. He plays with jersey number 8.
Story
Winter Cup preliminaries
Final league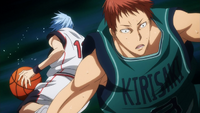 Winter Cup
Round 1
He was seen at the Winter Cup together with his team, watching the game between Seirin and Tōō.[1] He questioned whether or not Imayoshi was smarter than Hanamiya, but Hanamiya denies it.
Skill
Physical Ability

 

7/10
Technique

 

6/10
Stamina

 

8/10
Mental Strength

 

7/10
Special Ability

 

6/10
Trivia
According to KUROFES:
His motto: "Life will work out somehow"
His hobby: Fighting games
His specialty: Eating
Favorite food: Pork cutlet
Favorite subject: Biology
He is not in any committee
He family consists his father, mother, elder brother, elder sister
He is not good with tricks
Best move: hook shot
He likes cheerful girls
During his free time he would play with his friends
He started playing basketball because his friend invited him to play
The player he has his eyes on is Moriyama
References
↑

Kuroko no Basuke chapter 126, page 15