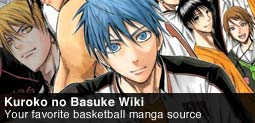 Kuroko no Basuke Wiki is an English-language wiki focusing on the Kuroko no Basuke manga series by Tadatoshi Fujimaki.
The wiki was founded by Kakeka but was immediately abandoned on November 23rd 2010. Luckily, Bereisgreat picked up the wiki on July 26th 2011 and adopted the wiki July 31st. In just one month, 137 pages were created and 2666 edits were made. This wiki will attempt to document all things related to Kuroko no Basuke as best as it can. Because Kuroko no Basuke is just a rather small sports manga, the wiki did not have many visitors or editors. But with an anime adaption finally airing, we hope that there will be more visitors and, more importantly, more contributors. One of these newly arrived contributors, LeoWyatt, edited more than anyone else and was granted adminship July 24th, 2012. The Wiki is affiliated with the Kuroko no Basuke Facebook Page. Unfortunately, due to inactivity, Leo resigned from his admin position January 30th, 2013.
A logo was made by Fandyllic on Logo Creation Wiki and a background was made by JoePlay from the Content Team. Thanks to both of them. The wiki has also been given two spotlights and a Promotion on Wikia's homepage. Thanks!
Wiki statistics
Affiliated Wikis
See also