Shōta Higuchi (樋口正太, Higuchi Shouta) is the former manager of Rakuzan. He later became one of the players of Team Strky.
Appearance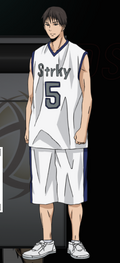 Higuchi has short brown hair and brown eyes. While on Team Strky, he wears the number 5 jersey.
History
Higuchi loves basketball. However, he abandoned his dreams of becoming a player once he enrolled in Rakuzan High School. There he became a manager for Rakuzan to support and assist the team in anyway.
Story
Streetball
After graduating from Rakuzan, Higuchi then went on to college to play basketball and became one of the starters for Team STRKY. He then plays in the Exhibition match, that's live broadcast on TV, between Team Jabberwock and Team STRKY. Like the rest on the team, Higuchi was brutally crushed and humiliated by the the Jabberwocks in both during and after the game.
Trivia
According to the CHARACTERS BIBLE PLUS:

His favorite food is Sweet potatoes
His hobby is Sudoku
His special skill is Pen spinning
His motto is: "Endure all hardships for the sake of one's ambition."
He is likely based on Slam Dunk character Hikoichi Aida, a bench player of Ryonan who also acts as a manager.